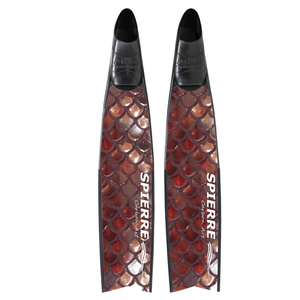 Carbon Art Rose Bronze Scale Fin Blades - Apnea Range (Set/Pair)
Spierre Apnea Range Fin Blades (Set/Pair)
The Apnea range fin blade is excellent for Freediving on a single breath, conserving valuable oxygen and energy and providing maximum lift for energy expended during the ascent to the surface.
Specifications: 
Carbon Art Fin Blades boast unparalleled responsiveness, with an impressive memory and ability to return to the original position. Crafted to order with aerospace-grade carbon cloth and high-performance bio epoxy, the Apnea Range comes with a 19cm width and customizable length (80cm, 82cm, 85cm) and stiffness. 
Designs:
The designs and patterns are flawlessly integrated into the fin blade matrix during production, rather than as a sticker or add-on that is added to the fin blades after manufacturing is completed, ensuring that the design does not peel off the fin as with most sticker / add-on methods. Each fin blade is integrated with the design glassed into the epoxy on both sides.
 Foot Pocket info:
Spierre Fin Blades can be fitted to most universal foot pockets. If you would like to add foot pockets to your Spierre fin blades, Mares X-Wing,  Pathos or Cetma S-Wing (White) can be added under the Custom Options when ordering. For any assistance with foot pocket sizes, contact us at info@spierre.com.   For Cetma Sizing Chart click here.  For Pathos Sizing Chart click here.  For Mares X-Wing Foot Pocket Sizing chart click here
Please acquaint yourself with the Handcrafted processes Terms and Conditions.  Handcrafted Fin Blades - Terms and Conditions
---